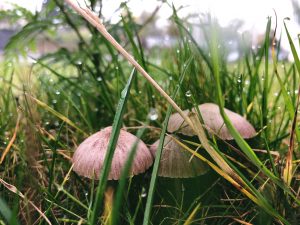 Some years ago, Progress Products identified very specific needs within the Mushroom Industry for cost-effective hygiene products.
We researched the entire mushroom industry examining the appropriate disinfectants available to the grower at that time.
Those products needed to be:
Environmentally friendly
Pleasant to use
It became clear to us that the mushroom grower could readily utilise an alternative disinfectant. A product which not only gave disease control over the various diseases that befall growers, but also offered user-friendliness at an economical price.
This product is called ' Disolite', and is now well tried and tested by many leading growers, offering cost-conscious control of unwelcome cross infection organisms.
DISOLITE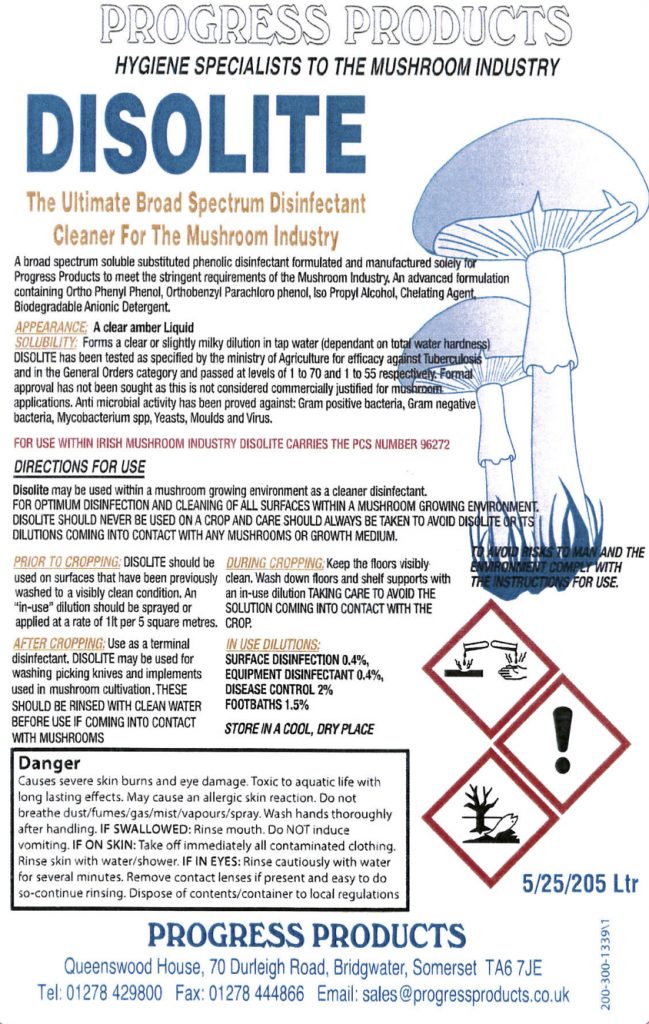 The ultimate broad spectrum disinfectant cleaner for the Mushroom Industry. A broad spectrum soluble substituted phenolic disinfectant formulated and manufactured solely for Progress Products to meet the stringent requirements of the Mushroom Industry.
An advanced formulation containing: Ortho-Phenyl Phenol, Orthobenzyl, Chlorophenol, Iso-Propyl Alcohol, Chelating Agents, Biodegradable Anionic Detergent
This formulation is undoubtedly the finest of its type but growers must ensure complete and absolutely correct rinsing and cleaning down subsequent to an application is carried out to avoid any carry-over which might lead to residual detection issues.
As a result of the success that Disolite has achieved, we also produce a product called 'Disolite-F'. This is a similar formulation but contains a scientifically balanced foaming agent.
When used through a pressure system, Disolite-F gives superb results in cleaning growing tunnels, without damaging the lining.
Disolite and Disolite-F have been tested successfully or approved by bodies such as ADAS and the Soil Association.
OMNICIDE-M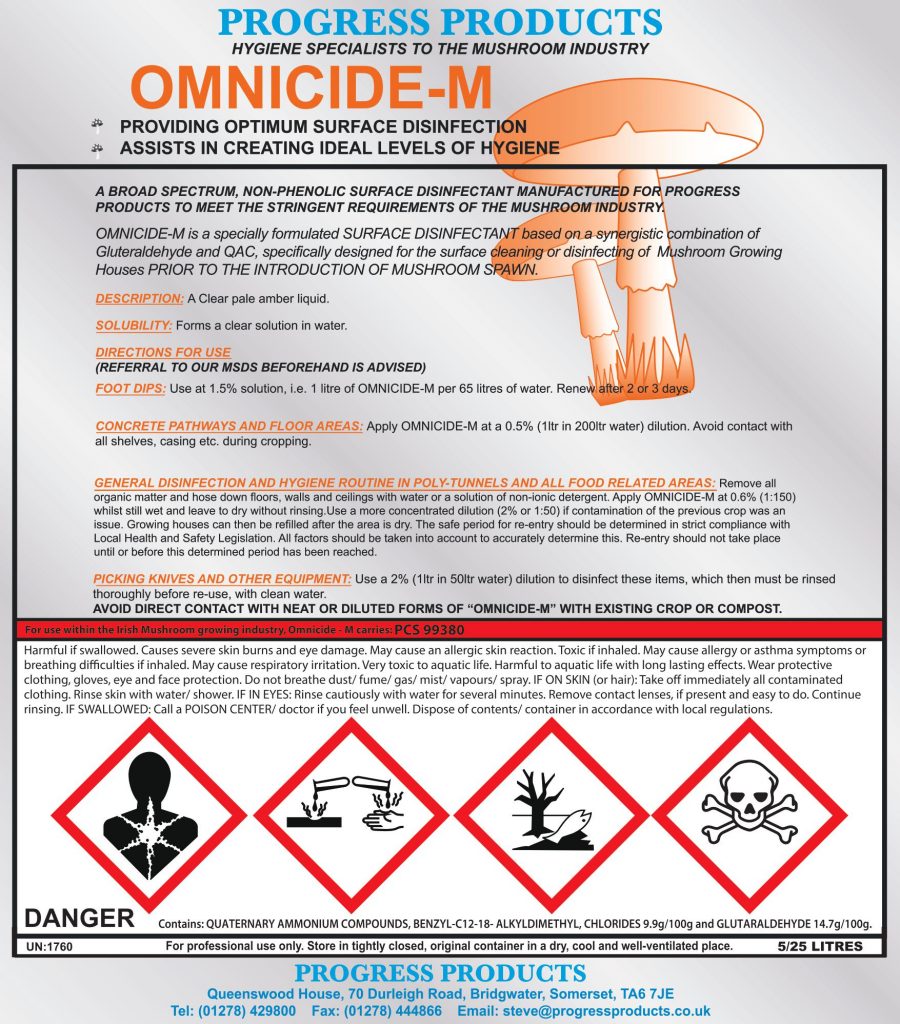 The broad spectrum, non-phenolic virucidal disinfectant for disease control on mushroom farms. Omnicide-M has been introduced by Progress Products to compliment their other two products – Disolite and Disolite-F, the tried and tested triple biocide disinfectants.
Omnicide-M is now the accepted and proven mushroom farm disinfectant for use throughout all of the farms operated by Monaghan Mushrooms, both in Ireland and the UK.
The product has been listed on the biocide register in Ireland and carries PCS no. 99380
Omnicide M will not give rise to any form of "residual" problems which are currently a major issue which are associated on certain occasions when utilising phenolic formulations.
Test work information which was independently undertaken by Dr John Fletcher is readily available upon request and will reveal the efficacy of omnicide-M on virtually every problematic mushroom pathogen including Trichoderma-aggressivum.